Sarah Berger Richardson is an Assistant Professor in the Civil Law Section of the University of Ottawa's Faculty of Law where she focuses her research on food law and policy. Food law and policy refers to the laws, regulations and policies that govern all the food and beverages we grow, raise, produce, harvest, process, transport, distribute, import, export, advertise, label, buy, sell, share, donate, cook, eat, drink, waste and dispose of, as well as the related laws dealing with public health, labour rights, the environment, social justice, food sovereignty, and farm animal welfare.
While the vast majority of food produced in Quebec comes from large-scale farms, a growing number of producers and consumers want to move to a smaller-scale, more humane model of production. In a legal environment that leans heavily towards large-scale industrial agriculture, it can be a challenge for smaller-scale artisanal farms to operate, let alone flourish. As our food systems become increasingly sophisticated, what role should artisanal agriculture play in Quebec? Are our laws adapted to promote diversified production and more direct supply chains?
In this JuriDoc, Professor Berger Richardson, one of Canada's foremost experts on food law and policy, investigates these questions by exploring the world of artisanal farms. She visits Dominic Lamontagne, an artisanal producer and author of the book La ferme impossible. According to Mr. Lamontagne, legislative barriers restrict his activities and prevent him from supplying a growing consumer demand for his products. demand that is perpetually growing.
Consider our system of supply management, which aims to balance supply and demand for certain agricultural products by limiting the quantities that can be produced. The total amount is divided into shares between the province's farmers. These shares are referred to as "quota". But what happens to producers who wish to raise a limited number of animals outside of the supply management system in order to sell directly to consumers and local markets? Buying quota is expensive, and it is only one of many expenses required to start a commercial farm. Beyond cost, participation in the quota system dictates minimum levels of production that are often incompatible with a more pastoral vision of agriculture. Moreover, barriers to entry for artisanal farmers also relate to challenges obtaining accurate information about requirements to operate within the supply management system as specific rules and units of measurement vary widely across sectors. As a result, although the original intention of supply management was to bring financial stability and fair prices to the agricultural sector, today it is one of the greatest barriers to entry for artisanal producers.
Supply management and over-quota production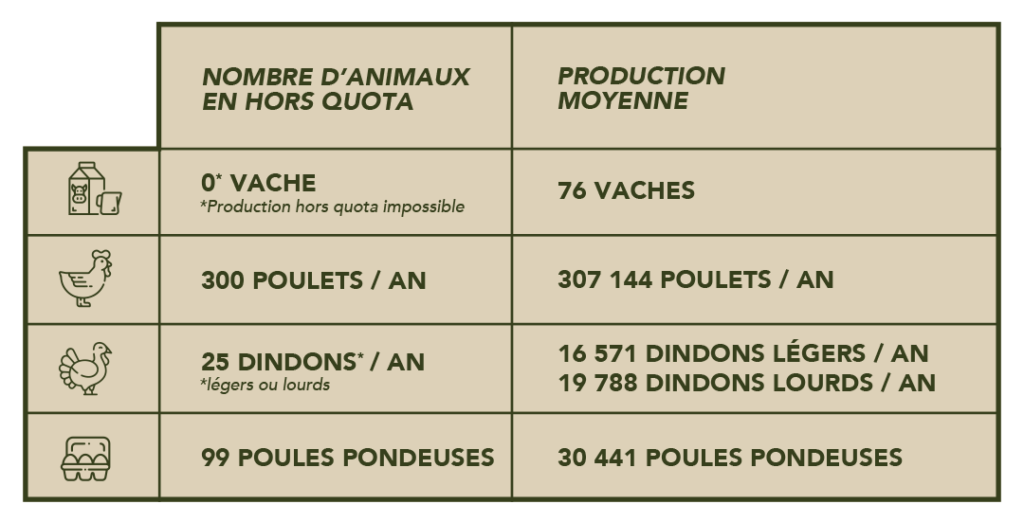 Another example is the regulation of animal slaughter and meat processing and the current prohibition on selling meat from animals slaughtered on the farm. For Dominic Lamontagne, this restriction is irreconcilable with his vision of overseeing the entire life cycle of his animals on his farm – an ideal shared by many artisanal producers. The transportation of livestock and poultry to the slaughterhouse is also both expensive for producers and stressful for the animals. Indeed, the journey to the abattoir is usually the most stressful period of an animal's life, even more so that the moments immediately before it is killed. At the same time, animal slaughter is a dangerous and high-risk activity that requires careful monitoring to ensure food safety standards and animal welfare requirements are met. How then can these different ideals and policy objectives be reconciled? One possible solution may lie in Bill 99, which was tabled in the National Assembly of Quebec by the Ministry of Agriculture, Fisheries and Food of Quebec (MAPAQ) in June 2021. The bill proposed to amend the Food Products Act by reducing administrative burdens on small producers. Among other things, this may include permitting on-farm slaughter for chickens outside of the quota system. This particular proposal builds off of the results of a pilot project on-farm chicken slaughter that Dominic Lamontagne participated in in 2020.
Slaughter options for breeders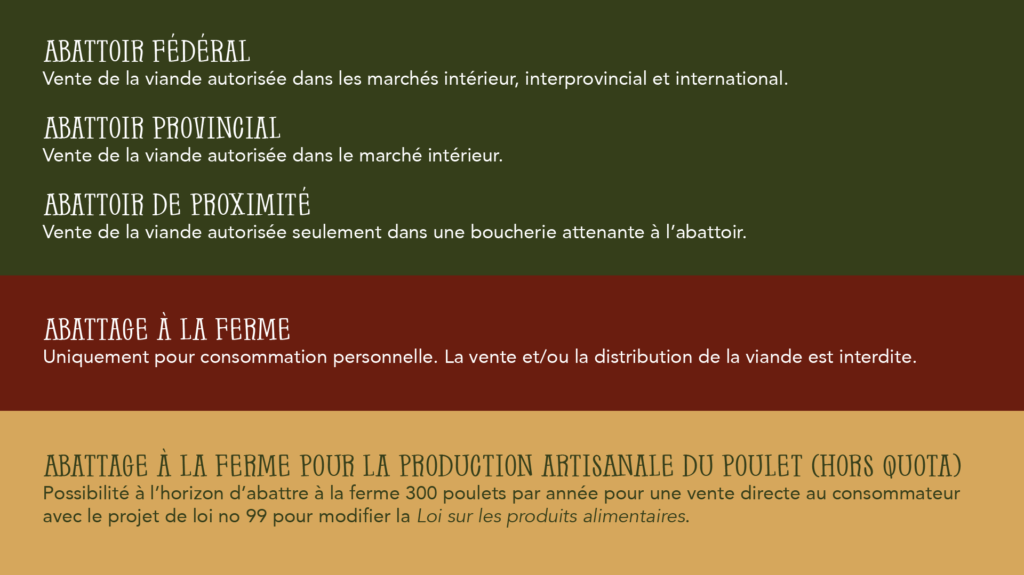 The federal and provincial legislative framework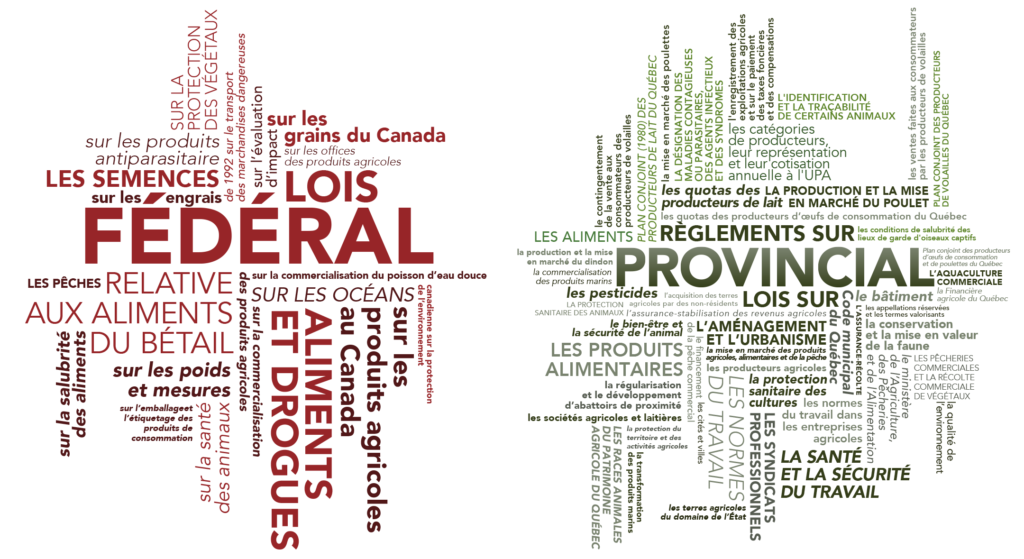 All in all, the rules governing agricultural production in areas like supply management and animal slaughter aim to advance policy objectives with respect to economic development and public health. However, these rules can also hinder small-scale farms if they prevent them from producing the kinds of products they want or make producing them less profitable. Legislative initiatives such as MAPAQ's proposed modernization of the Food Products Act could help to create a space for artisanal agriculture at the Quebec food system table. In the meantime, there is still much work to be done to achieve the right balance between food law and food sovereignty in Quebec.